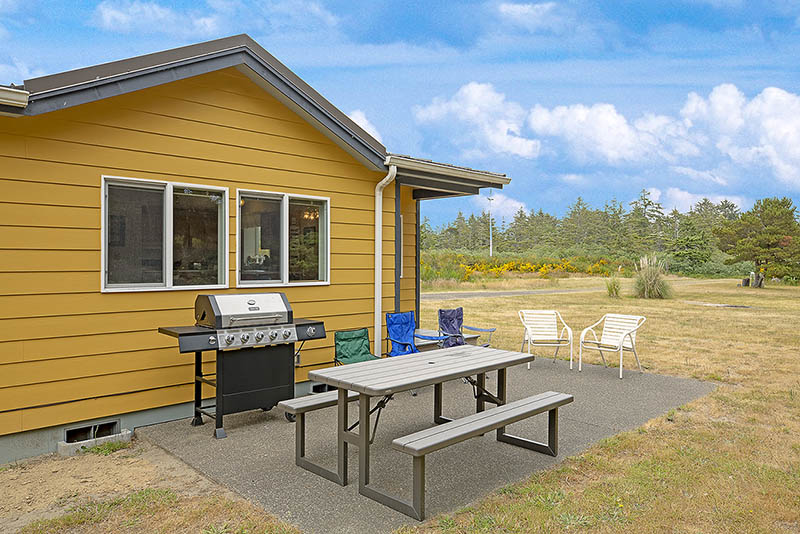 This cozy cabin is the perfect home away from home for those looking for amazing ocean scenery. Located just a mile south of Twin Harbor's State Park in Westport, you can find some of the best beachcombing and fishing areas around this cabin!
About Spyglass Dunes
You will have access to your own private beach trail, and it is particularly known for some of the state's best agate hunting, so be sure to bring your buckets and shovels.
If you have an electric car, this cabin is perfect for you. There is an outlet to charge your vehicle but remember to bring your own cable!
Kickback in the evenings and bust out the board games. Although the Spyglass Dunes cabin does have WiFi, the coziness of this place will give you the desire to visit with your loved ones. Speaking of those loved ones, bring up to eight total people as this cabin has three queen-sized beds and a futon couch.
Fishing supply stores in town have plenty of locals willing to lend you some tips to catch whatever your heart desires.
More About Spyglass Dunes
If you feel like cooking instead, this cabin has a fully stocked kitchen big enough to whip up a meal for the entire family. Make use of the breakfast bar by starting your morning off right.
Did you know Washington state's tallest lighthouse is just a short drive away? The Gray's Harbor Lighthouse is a must-see.
Feeling like taking an excursion? You're in luck! The local charter companies offer a range of trips, including halibut, rockfish and tuna fishing. Dogs are welcome with our standard per dog, per night fee.
About Grayland
Looking to book one of our properties here in Grayland? Well, you've come to the right place! We know the ins and outs of everything to do here on the edge of Washington.
Visit the state park that is located right on the beachfront. Here you can dive right into those seaside activities you long for.
The warm weather brings many fishing options, such as charters and tours. Go on a boat tour to see the water and beaches surrounding. Enjoy surfing or kiting at any of the beaches. A few miles away, Westport has a couple of wineries that are the perfect getaway for a couple looking to escape.
During the colder months, you'll find museums and restaurants that stay open year-round for you to enjoy. Explore the antique shops and boutiques that have trinkets and souvenirs for your keepsakes.
The Beachy Day Promise
Beachy Day is the only full-stack vacation rental management company in the area. We vow to make booking with us simple and exciting. We know that booking a rental property home for your vacation can be unfamiliar territory for some, while others know their way around it. Because we know this, we ensure that each of our properties is up to high-quality standards.
We do our absolute best to provide support to our guests when booking.
We are available to assist you every day of the year if you have any questions or concerns before, during or after your visit to our home. We have onsite property management available 24/7 for anything concerning that may arise.
Boat Trailer Parking
Pet Friendly Property
Starry Starry Nights
RV Parking
Beach Combing
Charter Fishing
High Speed Wireless Internet
Surfing
Ocean Swimming
Name: Spyglass Dunes
Status: Active
Rating:

Type: Cabin
Country: United States
State: Washington State
Destination: Westport
Location: Grayland
Setting: Beach Front Area
View: Partial Forest View
Internet: Yes
Sq. Ft: 1,200
Floors: 1
Entrance Floor: 1
Bedrooms: 2
Beds: QFFC
Bunks: No
Baths: 2
Normal Occupancy: 6
Sleeps: 8
Max Occupancy: 8
Parking: 3
Pets: Dogs
Checkin: 05:00 pm or later
Checkout: 11:00 am or earlier
Website: SpyglassDunes.com
Manager: Beachy Day
BED CODES: K=King, Q=Queen, F=Full, T=Twin, C=Futon Couch, M=Mattress, A=Air Mattress, L=Sleeper, S=Sofa, U=Trundle Bed, D=Day Bed
The Spyglass Dunes cabin is what we call the perfect getaway for those looking to enjoy the beach front as well as fishing of all kinds.
Property
Long Term Rentals Welcome Unit
Handicapped Access, None Unit
Child Friendly Unit
No Smoking Unit
Minimum Rental Age is 25 Unit
2 Queen Beds Unit
Sofa Bed Unit
Ceiling Lamp Unit
Chairs Unit
Pet Friendly Property Unit
Table Unit
Ceiling Fans Unit
Deck Unit
Outdoor Furniture Unit
Forced Air Electric Heating Unit
Full Kitchen Unit
Lamp Unit
Boat Trailer Parking Unit
Multiple Car Parking Unit
Nightstand Unit
Beach Towels Unit
Queen Bed Unit
Setting
Water Front Area Neighborhood, 1 Block
Suburban Area Unit
Golf Area Area, 10 to 15 Miles
City Area Area, 8 Miles
View
Starry Starry Nights Unit
Kitchen
Electric Stove Unit
Toaster Unit
Oven Unit
Pots & Pans Unit
Refrigerator Unit
Refrigerator - Freezer Unit
Coffeemaker Unit
Cooking Wares Unit
Paper Towels Unit
Glassware Unit
Plateware Unit
Flatware Unit
Bath
Basic Soaps Unit
Toilet Paper Unit
Cleaning
All Linens Provided Unit
Clothes Washer Unit
Cleaning at Departure Unit
Daily Cleaning Available Unit
Clothes Dryer Unit
Sink Disposal Unit
Convenience
Self Service Accommodations Unit
Family Friendly Unit
Unreliable Mobile Phone Coverage Unit
Catholic Church Area
Evangelical Church Area
LDS Church Area
Protestant Church Area
Public Busses Area
Automobile Rental Area, 10 to 15 Miles
RV Parking Unit
Pharmacy Area, 6 Miles
Post Office Area, 6 Miles
Services
Shops Area, 5 Miles
Gift Shops Area, 5 Miles
Coffee Shop Area
Full Service Restaurants Area, 5 Miles
Hair Salon Area, 10 to 15 Miles
Colleges in the Area Area, 10 to 15 Miles
Grocery Store Area, 2 Miles
Convenience Store Area, 1 Mile
ATM Machine Area, 3 Miles
Small Plane Airport Area, 8 Miles
24 Hour Assistance Telephone
Public Library Area, 7 Miles
Medical Clinic Area
Hospital Area, 10 to 15 Miles
Entertainment
Marina Area, 5 Miles
Bingo Gambling Area, 10 to 15 Miles
Casino Gambling Area, 10 to 15 Miles
Board Games Unit
Attractions Area, 5 Miles
Arcade Games Area, 9 Miles
Stereo Unit
Moive Theatres Area, 10 to 15 Miles
Wine Tours Area, 10 to 15 Miles
Activity
Charter Fishing Area, 5 Miles
Whale Watching Tours Area
Surfing Lesson Neighborhood
Surf Board Rentals Neighborhood, 3 Miles
Shelling Neighborhood
Bike Trips Area, 4 Miles
Birding Area, 10 Blocks
Camping Area, 3 Miles
Beach Combing Area, 2 Blocks
Antique Stores Area, 8 Miles
Boat Dock Free Area, 10 to 15 Miles
Fitness Center Area, 10 to 15 Miles
Gym Area, 10 to 15 Miles
Gym Equipment Area, 10 to 15 Miles
Harbor Area, 2 Miles
Bird Hunting Area, 10 to 15 Miles
Inner Tubing Area, 16 to 20 Miles
Business
High Speed Wireless Internet Unit
Meeting Rooms Area, 8 Miles
Sports
Laundromat Area, 1 Mile
Hiking Area
Golf Courses Area, 10 to 15 Miles
Freshwater Fishing Area, 3 Miles
Boat Dock Area, 6 Miles
Baseball Field Area, 8 Miles
Basketball Court Area, 8 Miles
Surfing Neighborhood
Water Skiing Neighborhood
Kite Surfing Neighborhood
Swimming Float Area, 31 to 40 Miles
Ocean Swimming Neighborhood
Saltwater Fishing Area, 3 Miles
Walking Paths Neighborhood, 1 Mile
Attraction
Rain Forest Area, 10 to 15 Miles
Wildlife Viewing Area
Wineries Area, 5 Miles
Zoo Area, 31 to 40 Miles
Book Store Area, 10 to 15 Miles
Farm Stores Area, 10 to 15 Miles
Historical Sites Neighborhood
Public Parks Area, 1 Mile
Sandy Beach Area
Churches Area
Museums Area, 3 Miles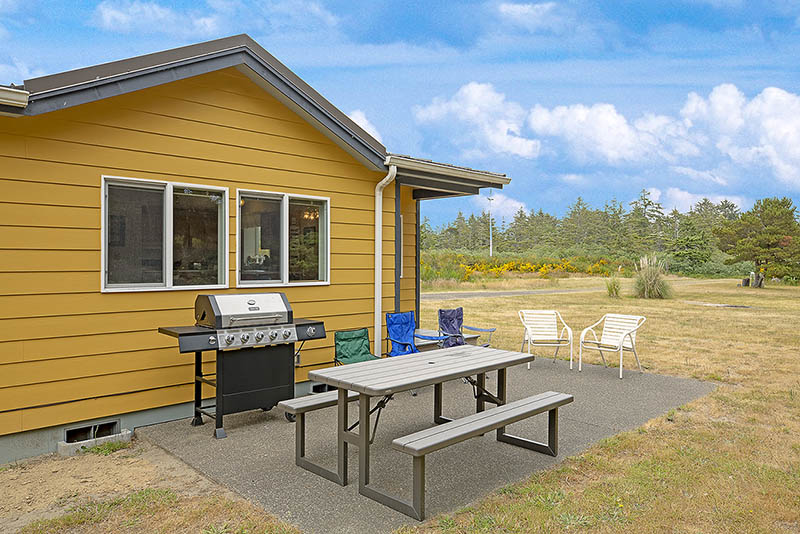 The whole experience of staying at this place was excellent
The whole experience of staying at this place was excellent (the location, the peace and quite, my wife love the bunnies and the beauty of the garden areas, and the interior of the place was very nice and relaxing).
Wonderful place
Wonderful place. Nice and cozy, clean and private.
Great customer service and great house
Great customer service and great house and location! We will reserve with them again!
Email Manager
Already a member? Click to login
Not a member? Request info below
Say you saw Spyglass Dunes Cabin (1087) on SpyglassDunes.com